The Wilderness Wanderer
Phone: (250) 376-9505
Fax: (250) 376-9505
---
Outdoor Magazine Reviews
---
BC Hunter
Fall 1995
Product Review
by F. N. Seal
Wilderness Wanderer Backpack Top Choice:
Dear Editor;
My hunting trip was a huge success last fall. It took me three year to find this bull elk. I want to say that most hunters thank their luck or their horse or something like that. All I want to say is, if I didn't have my Wilderness Wanderer backpack, I know I wouldn't have ever managed to carry my bull out. Any other backpack would fallen apart with the load I carried. I backpacked in solo more than five miles, and camped in the mountains to find my bull. It took three trips to get all the meat out. My family and friends are now enjoying great steaks and I can honestly say I never wasted an ounce of that elk. My Wilderness Wanderer is the ultimate, best backpack made, it held up far better than I did on that trip. We're presently planning a goat hunt and a long life together.
Sincerely,
F.N. Seal
---
aim
December/January 1996
Showstopper...
NWT Guide YAK swears by the Wilderness Wanderer Pack, and nobody knows packs better than the wilderness guides.
Wilderness Wanderer Back Pack
Rarely does a new product truly classify itself as honest-to-God new. But in this case, what we actually have here is something so innovative that everybody should take the time to investigate. The Wilderness Wanderer back pack is a creation of Canadian Romeo Leduc. It is so innovative, in a subtle way, that it leaves us all wondering "Now why didn't I think of that?" Well, we didn't and Mr. Leduc did, to which we should all be thankful !
The problem, in case you haven't packed ponderous and weighty loads in the mountains, is that most packs seem to contribute more to making you tired than they help. Their age-old design has changed very little in the last few decades - when the hip belt became the first major change in packs.
The key feature of the pack is it's frame system. If you'll notice in the photo, the aluminum frame loops forward and somewhat around the hunter's waist. Attached to this suspension frame is the hip belt, which now is able to basically "free float" as a person plods along, heavily laden with the rich rewards of a hunt gone well. Believe me, an elk quarter weighs more with each passing step, but when carrying said meat in a Wilderness Wanderer pack it somehow seems less, and the pack out becomes considerably easier.
The floating hip belt is attached by a bungee cord, which acts as a shock absorber; along with straps which in effect suspend the whole affair. What you end up with is truly amazing - reminding one of those new free-floating video cameras which seem to eliminate all the wiggling and jogging effect of our unsteady hands. Instead of transferring the shock to your hips the Wanderer floats gently back and forth, or up and down, as you walk. The net effect is less fatigue.
Secret to success - the suspension system mounted to the pack's frame loops.
Can you imagine what it would be like as you're traversing a rugged mountainside and suddenly your back pack becomes more of an ally than foe? The Wanderer does just that. you slip a little, and instead of amplifying the weight and motion, the suspension system absorbs the shock- and your body is spared a severe jolt. With each step, as you bob up and down in typical primate gait, the pack gently seems to float along, remaining more-or-less in place as you handle the terrain. In other words, the pack doesn't resist the natural movement of the body. It is believe it, a wonderful experience.
As a true added bonus, this pack actually stands up by itself. How many times have you had to have someone else hold a pack for you - or searched in vain for a tree or rock to lean against?
The pack is somewhat unique in that it comes in various models, all with differing modular makeups. You can even take off parts and wear them separately ! Whether you're packing out moose in Alaska, or a whitetail in the foothills back home, or just plain in need of a new pack for your next camping expedition, give the Wilderness Wanderer a try. It simply can't be beat - and it won't beat you either!
---
BC Outdoors
July/August 1996
Backpack Hunter
by Jim Shockey
Choosing A Backpack
The whining I do about food during the first starving days of a backpack trip is one big sweet nothing compared to what comes out of my mouth if my backpack's shoulder strap decides to break. I'm speaking from experience here because it's happened to me twice. The first time I was negotiating a particularly dangerous section of cliffy trail when a rock gave way under my foot. No biggy. As my over-burdened top-heavy body started swinging out over the abyss, I jerked back and grabbed granite. Pop. It wasn't a large sound but an ominous one. The inside shoulder strap broke, allowing 80 pounds worth of pack to gain another few inches of acceleration, which caused it to gain substantial amounts of abyss directed force.
The swinging pack almost caused me to pitch over the edge to what would have been a certain and very gory demise. Luckily I was near the end of my trip and was able, with tremendous physical effort, to drag the hoking pack the rest of the way back home. Needless to say, I retired that pack and purchased a new, pretty colored, space age "ecohiker" backpack. Unfortunately, my new pack didn't live up to the slick salesman's glowing hype and like it's predecessor, it too decided to break its shoulder strap. Unlike its predecessor, it did so at the beginning of the hunt, within five minutes of starting up the mountain.
In other words, strapless may be good for dresses but it's bad for backpacks and if you want to ensure a safe and sound, round-trip journey into the mountains, buy the best backpack you can afford. In my mind and in the minds of many of the most serious backpack hunters in BC, that leaves one choice, the modular backpack made by The Wilderness Wanderer.
This pack is made to withstand the rigors of a mountain backpack hunt and while your average weekend hiker might find it far too large and far too heavy duty, your average hunter will love it. I've tried the best of the new age "eco-hiker" packs, most of which are internal frame jobbies and, while they're pretty and do work, most of them are just not made to carry 160 pounds of moose off a mountain. You need an external frame pack like the Wilderness Wanderer for this type of "above and beyond the call of duty," duty.
This great pack was designed to more than meet the very particular needs of the BC hunting backpacker. It isn't cheap, but since your life depends on what you can and are carrying on your back, it's comforting to know that your pack will still be on your back when you stop to make camp.
---
Outdoor Edge
Vol 3 Issue 7 1993
Backpacks - Finding One That's Right For You
by T. J. Schwanky
"Oh my aching back"
I shudder to think how many times I have uttered that very phrase. There was the time I packed an entire bighorn ram off a 9,000-foot ridge, then there was the 2-week trip up the Clearwater River, the big mule buck that Donny Warner shot in Kananaskis Country and...
Well, you get the picture. Packing heavy loads is back-breaking work under ideal conditions. Add high altitude, poor footing and questionable equipment and it can be downright treacherous. Not all packing takes place in the mountains, either. I have hauled heavy loads across portages in the Whiteshell Provincial Park and up steep coulees in southern Saskatchewan.
Face it, most of the best hunting, fishing and photographic opportunities in western Canada begin where the road ends. That's why we'll be looking at external frame backpacks. There has been a tremendous push toward internal frame packs in the past decade, but when it comes to moving a heavy load from one place to another, nothing beats the external frame pack.
When I speak of heavy loads, I am not talking about freeze dried food, light weight mummy bags and bivouac tents. The internal frames are fine for loads of 60 or 70 pounds. Heavy loads are those in excess of 75 pounds, often well over 100. The cape and horns of my ram alone weighed over 30 pounds. Add 90 pounds of boned meat, rifle, first aid kit and rain gear and you have an extremely heavy load. Most modern external frame packs and pack boards are constructed of aluminum or other space age composites. This is to help reduce the weight of the pack while maintaining a high degree of strength. Quality aluminum packs are welded together, not bolted or rivited.
Do not buy a pack unless it is adjustable and has a padded hip belt. Packs are a very personal thing and must be fitted precisely to each wearer. An improperly fitting pack is not only uncomfortable but can cause permanent physical damage. The most critical adjustments are the width and length of the straps. The width of the straps is adjusted by moving them at the top of the pack. The length is adjusted by a cinch strap below the padded portion.
The width is adjusted prior to wearing the pack but the length should be adjusted after the pack is on. The waist belt should fit snugly above the hips and support a fair portion of the weight. It is sometimes necessary to loosen the shoulder straps slightly to get the proper weight on your hips. A hip belt is absolutely crucial for packing heavy loads, though when packing on extremely steep slopes it is sometimes advisable to unbuckle your hip belt. Should you happen to slip and fall, it is easier to rid yourself of the pack.
All straps and belts should he well padded. On the better quality packs, they are contoured to fit the curves in your body. Straps with inadequate padding are uncomfortable and can cut off circulation to arms and fingers. An adjustable strap across your chest that joins the shoulder straps together also aids in making a heavy load more comfortable. Be certain there is some padding at the point where the pack contacts the small of your back. On cheaper frames, metal support rods often rub your back bone, making heavy loads unbearable.
[Part of article omitted]
The Wilderness Wanderer was another extremely delightful pack to have on your back. This pack is made right here in Canada by some proud and dedicated craftsmen. I picked it up at the Edmonton Boat and Sportsmen's Show and was very impressed by the time taken to show me how to fit, disassemble and reassemble the pack.
In addition to being a conventional external frame and pack, the Wilderness Wanderer breaks down into several other packs, including an internal frame pack, day pack and fanny pack. The idea is that you carry the entire pack to your destination or base camp, then day-hike out of there with the smaller packs. It takes about thirty minutes to totally break the pack down and reassemble it. It should be noted that the Peak 1 also had a detachable fanny pack.
The Wilderness Wanderer had a suspension system similar to the Peak 1s in its comfort Ievel and adjustability. The pack was designed to move with you rather than against you while walking. This pack also made extremely heavy loads seem much lighter than they were and handled them with ease.
The Wilderness Wanderer on the other hand is ideal for those looking for the modular approach to backpacking, you'll find no better!
As with most products, it all comes down to what you are willing to pay. You definitely get what you pay for with external frame packs.
[Remainder article omitted]
---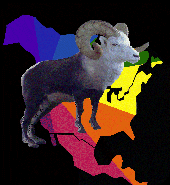 Back to Wilderness Wanderer Main Page
---